Clean away insect infestation
Protect against insect attacks
Stop colour fading
Cleaning & Maintenance
The Mount Medix product line is the proven technology for:
taxidermists
museums
trophy collectors
hunters
Due to changes in regulations Arsenic and Edolan have been prohibited in the taxidermy industry for several years.
But the need for prevention is still there, and perhaps even stronger as we see a fast-growing insect problem due to global warming?
Like other living entities, insects are also influenced by rising temperatures, elevated carbon dioxide (CO2) and fluctuating precipitating patterns as range expansion, increased insect outbreaks and new species introduction in regions where previously these were not reported.
Normal insecticides and bug repellents are usually harmful to people, have a displeasing odour and can leave stains on the hair. They are not recommended for taxidermy mounts.
Mount Medix has a solution
The philosophy behind the Mount Medix concept is as simple as it is ingenious: Protecting the taxidermy mount against insect attacks through cleaning solutions & eliminating the mount as a food source for insects and their larvae.
The ingredients in the products are 100% natural and are approved for use in the European Union and all products are registered with Safety Data Sheets in the European Chemicals Agency (ECHA).
FOR THE MUSEUM, HUNTER & TROPHY COLLECTOR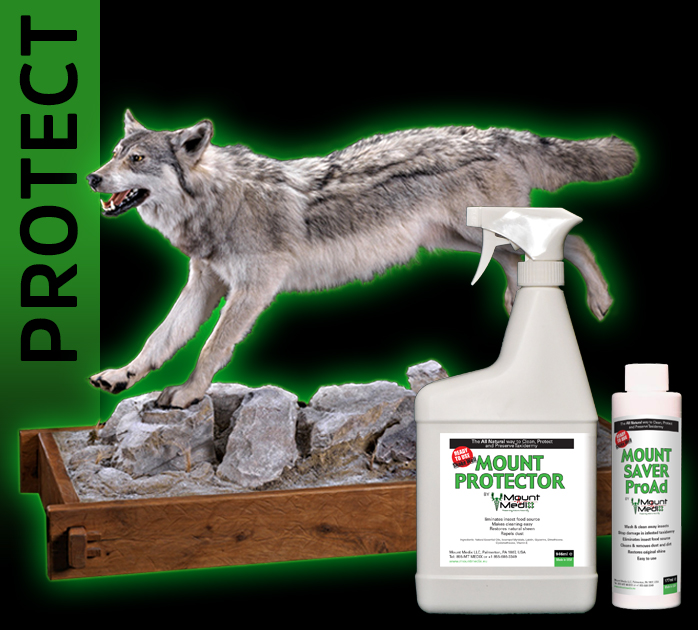 MOUNT PROTECTOR
PROBLEM:
You want to protect against insect attack
SOLUTION:
Use 'Mount Protector' for mammals and 'Pro Ad' for birds
MOUNT SAVER
PROBLEM:
You have discovered insect attack in your taxidermy mount
SOLUTION:
Use Mount Medix 'Mount Saver' for mammals and Pro Ad for birds
TAXIDERMY FADE PROTECTOR
PROBLEM:
If your taxidermy mount is exposed to UV-beams from sun or artificial light it will get damaged, loose colour and fade
SOLUTION:
Use Mount Medix "Taxidermy Fade Protector"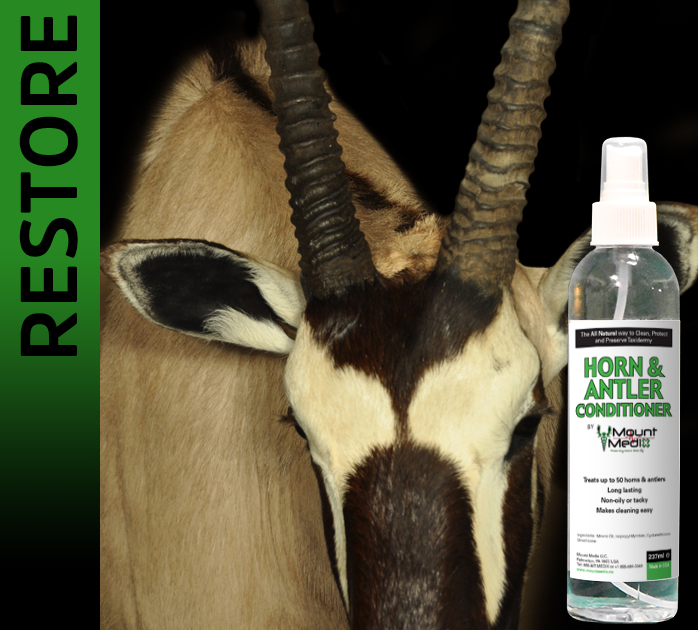 HORN & ANTLER CONDITIONER
PROBLEM:
If the horns or antlers have become dull and lifeless
SOLUTION:
Use Mount Medix 'Horn & Antler Conditioner' to restore the original color and structure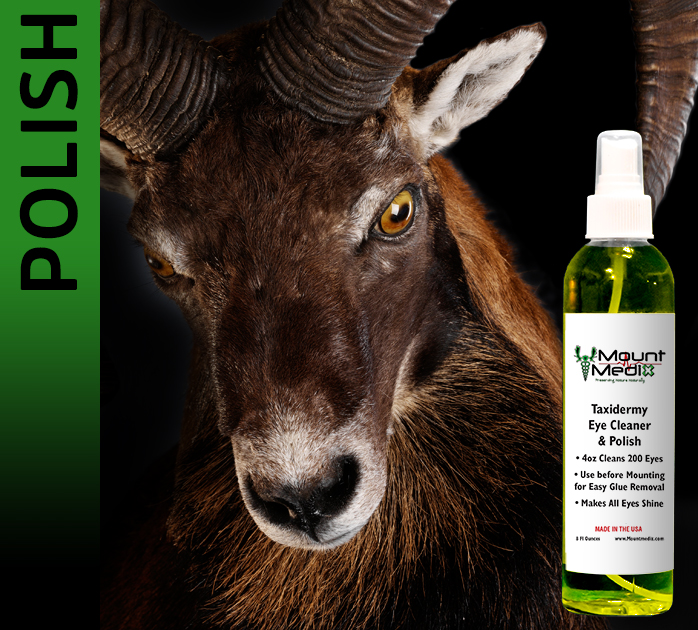 TAXIDERMY EYE CLEANER & POLISH
PROBLEM:
The eyes in the taxidermy mount are greasy, unclear, lifeless and have lost the 'spark'
SOLUTION:
Use Mount Medix "Taxidermy Eye Cleaner & Polish" and restore the natural 'spark'
Read more and watch detailed video tutorials (DIY) about Mount Medix – www.mountmedix.eu
---
See all Mount Medix Products below: